Joey Berriatua revisits the highs and lows of his past year—including his transition from a collegiate runner at Santa Clara to a member of Tinman Elite.
One year ago, I arrived in Boulder to begin what I hoped would be the greatest journey of my life. No money, no job, no friends, no teammates—nothing but the intentions of becoming the greatest version of myself. My collegiate career wasn't bright enough to garner interest from any elite teams, so I knew I would have to take a chance on myself. My goal was to earn a spot on one of the brightest up-and-coming teams on the distance running scene, and to prove to myself and others that there was a lot left to give to this sport. I knew that if I wanted to continue to pursue running, Boulder was my only home. I knew the road would not be easy. I knew I would likely face the highest of highs and the lowest of lows in my running career during my first year in Boulder. 365 days later, I've exceeded the expectations of others, and myself. But the most exciting thing is: this is only the beginning of my post-collegiate career.
Going through my college at Santa Clara, I always had intentions of pursuing professional running post-collegiately. Reaching the sport's biggest stage; testing myself day-in and day-out to truly see if I could reach the upper echelons of the sport. I graduated from Santa Clara with PB's of 3:49, 8:19, 14:13, and 8:52 in the steeplechase. I wasn't recruited by any post-collegiate groups, leaving me with few options. I was unsurprised, but not disheartened by the lack of interest—I knew that any opportunity to train and race post-collegiately would take me to another level. If someone took a chance on me, they wouldn't regret it.
That's where Tinman Elite came in to play. From following the Tinmen through race results, social media, and their website, it was clear to me they weren't looking for just the fastest guys. They wanted people that could make an impact, guys that would add to what they'd already built. A group of runners who identified themselves as a team, working to better the sport and each other everyday is something anyone can get on board with. They were best friends, not recruited by big brands to join a well-established team. They knew that their happiness came from being in Boulder with each other. They wanted to create something great for the sport and for themselves. Being a part of that sounded like a perfect fit.
I bought a Tinman Elite shirt in March of my senior year. Never ran in it, never wore it; to me it was a symbol of something that that would be earned to make this team, one way or another. That shirt, and the logo on it, meant more to me than a hope to be a member of a budding team. To me, it symbolized a commitment to taking the risk I'd been too afraid to take in the past.
"I bought a Tinman Elite shirt in March of my senior year. That shirt, and the logo on it… symbolized a commitment to taking the risk I'd been too afraid to take in the past."
Taking that risk meant moving to Boulder after graduation in hopes that the team would take a chance on me. The idea always seemed fascinating, but as it became more of a reality, it became more daunting. No one would be holding my hand. There were a lot of factors that were out of my hands. Nothing was guaranteed, but not taking a chance on myself would weigh on me for the rest of my life. My parents were supportive of my aspirations, but uneasy. At the very least, at the end of the day I would be in Boulder, fighting for a dream.
I didn't grow up the adventurous type. Taking risks, no matter how big or small, wasn't on my agenda. Making the move to Boulder was undoubtedly the most significant risk I'd made in my life. I arrived in Boulder feeling eager, intimidated, and free. For the first time, my safety net was gone and I would have to test myself. As if I wasn't already well out of my comfort zone, Sam invited me to go on a hike and scramble up some of Boulder's famous Flatirons during my second week in town.
Scrambling up those rocks was undoubtedly the most terrifying thing I've done. The fear of falling overwhelmed me, but Sam eventually encouraged me to get to the top. We sat looking out over Boulder, taking in the view, when he asked a simple question, "Why are you here?" Coming up with answers on the spot is typically easy for me, but I couldn't think of a response that would really capture everything. Becoming a better runner was the obvious answer, but thinking about it, there was so much more to it.
At the time, moving to Boulder felt almost like an impulse decision. It had all come together so fast that I was on the road before I truly realized what was happening. While it was clear to me that this was the right decision for myself, a lot of things weighed on me during the move. I graduated from Santa Clara University debt-free, which was nothing short of a blessing. My parents had made a sacrifice to ensure that I was receiving the best education possible, which would set me up for a cushy job in Silicon Valley upon graduation. They never expected anything in return; their return on investment was supposed to be watching me secure a successful future and take advantage of the opportunity presented to me. Wanting to pursue a professional running career felt like I was throwing their return on investment out of the window. It felt, at times, like my dream of running was a ridiculous pipe-dream that needed to be put to the side, and like it was time to grow up and tackle the real world on my own. Thoughts of failing my family for pursuing something this 'selfish' frequently crept into my mind.
Looking back, it seemed that the moments that solidified my decision to leave the Bay Area were all surrounded by my idea of happiness. There was no question, for me, that my time running for Santa Clara was nothing short of perfect. If I could go back and it all over again, there would be no hesitation. It was my time outside of the sport that left me yearning for more. The relationships I had made with people during my time at school, for the most part, felt ingenuine. Often, I felt that I was putting on a face to be socially accepted by people who I thought I needed to be accepted by. I did what everyone else was doing to fit in. Upon graduating and moving back home, those relationships quickly disappeared. I had a core group of friends that were easy to rely on in tough times—but I couldn't help but feel that I'd wasted a few years trying to be someone that others wanted me to be.
The only thing that concerned me more than the past was the future. In the limbo between graduating and moving to Boulder, I was mentally preparing myself to transition into the working life. It was terrifying to think my life after college would be a spitting image of my social life in school if I went straight into the corporate world. It had become clear that what brought me happiness while at Santa Clara was running and my team. A future without some sort of team left a massive void in my life that left me feeling uneasy. This idea left me feeling depressed, and my outlook spiraled downwards fast. I took my emotions out on my family and closest friends, the only people who were actually there for me. Unsure if there would be another group of people that could bring me the same happiness that my team brought ever again, a majority of my time back home was spent alone.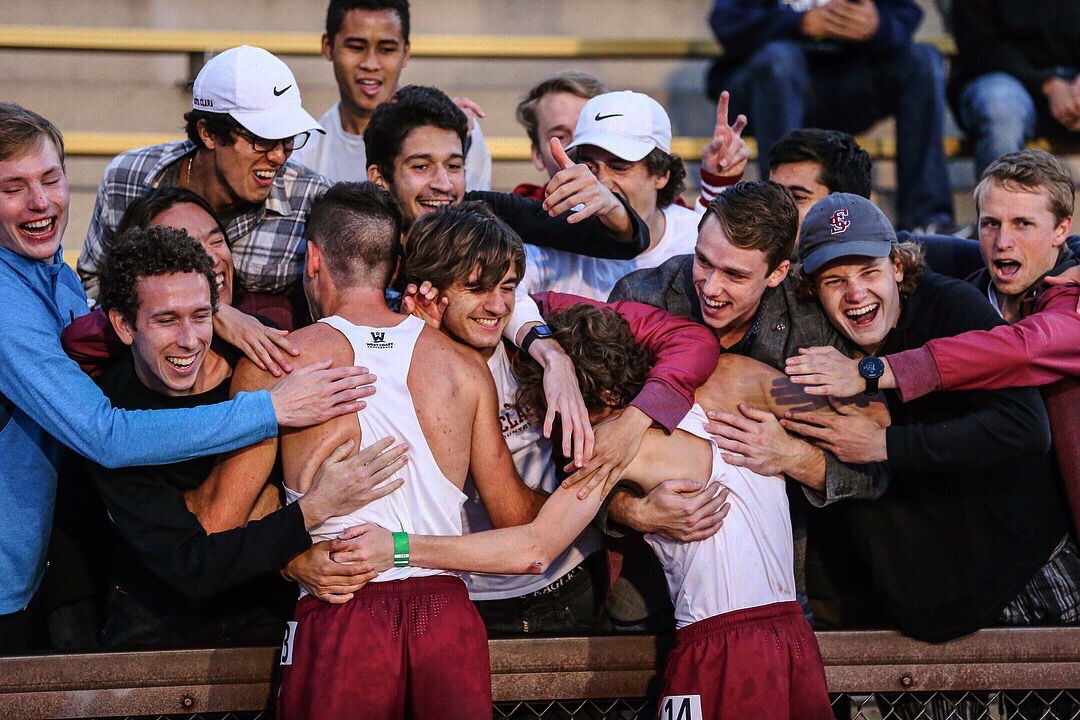 "It had become clear that what brought me happiness while at Santa Clara was running and my team. A future without some sort of team left a massive void in my life that left me feeling uneasy."
Sam's simple question, "Why are you here?" brought me to tears. Similar to taking that risk of scrambling up the rocks of Boulder, there was a giant risk of moving here. For the first time in my life, there was nothing to fall back on. That realization was equal parts terrifying and exhilarating. There was a greater chance of failure than success. In my mind, however, I had no option but to succeed.
My transition to life in Boulder was surprisingly smooth. I quickly found employment at Boulder Running Company (which helped alleviate some of my financial stress) and made plans to meet up with the Tinman guys for an easy run. That first easy run with the full team quickly turned into a feeling of a warm welcome. I immediately sensed that this was a group of guys who truly wanted the best for me. They didn't care about who the "14:13 guy from Santa Clara" was, they only cared about the guy who had committed himself to the team and the sport, and who he would become. Very quickly, before it seemed like I had even blinked, Boulder was my home, and I was training with Tinman Elite.
Training and racing with a chip on my shoulder has been one of the most transformative things I've learned in my first year with Tinman Elite. One of the greatest things about sport is that there is always something more for an athlete to prove—whether to themselves or to others. Athletes face mental struggles constantly, regardless of what level they're competing at. Early on, for me, there were constant internal battles with myself as to whether or not I truly belonged at the elite level. I quickly found that training with some of the best athletes in the U.S. can be equally invigorating and humbling. Getting my ass kicked in every single workout and long run tested not only my patience, but my confidence. Over time, my biggest lesson was learning to trust in my coach, my training, my teammates, and—most importantly—myself.
This trust all came together in one particular moment for me. Before running my first indoor race of the season, a 3,000m at the UW Indoor Preview, I asked Coach Schwartz for a race plan. When heat sheets came out, I was surprised to find myself in the slower section. The week leading up to the race was filled with frustration, but I felt ready to take matters into my own hands and prove that I was a new level of runner. The only response Coach had for me was: "Win. It doesn't matter what the pace is or who's there, stick to the front, and if you feel good, take off with 1k to go. That's where you can show off. Don't worry about taking it from the gun and running some ridiculous time. Learn how to win." It was easy, at first, to feel pissed off by this basic strategy. I had placed so much energy into being ready to prove myself with some huge PB, and now all I could do was settle with sitting and racing for what I imagined would be a mediocre time.
While frustrating, the advice and plan was also incredibly calming. All the stress I'd held onto leading up to that point had dissipated, and the simplicity of the new approach allowed me to enjoy racing. Luckily for me, one of my competitors, Michael Eaton, decided that it was also his day to prove himself. He took us through the first mile in 4:15, seven seconds ahead of the pacer and the rest of the pack. I took the lead with 900m to go, and never looked back (metaphorically, of course—anyone who watched that race knows I actually looked back every 10 seconds). I was on a high. It's difficult to pinpoint a race in my career that was more enjoyable. Everything clicked. I felt incredible. Midway through the race, I knew a fast time was coming, and any sign of pain or fatigue was gone before I had even realized it. I was just competing, all else be damned. I was rewarded with the win in 7:59—a 20 second PB and an auto-qualifier to the USATF Indoor Championships. Not bad for a kid who had never even made NCAAs. I had found my swagger.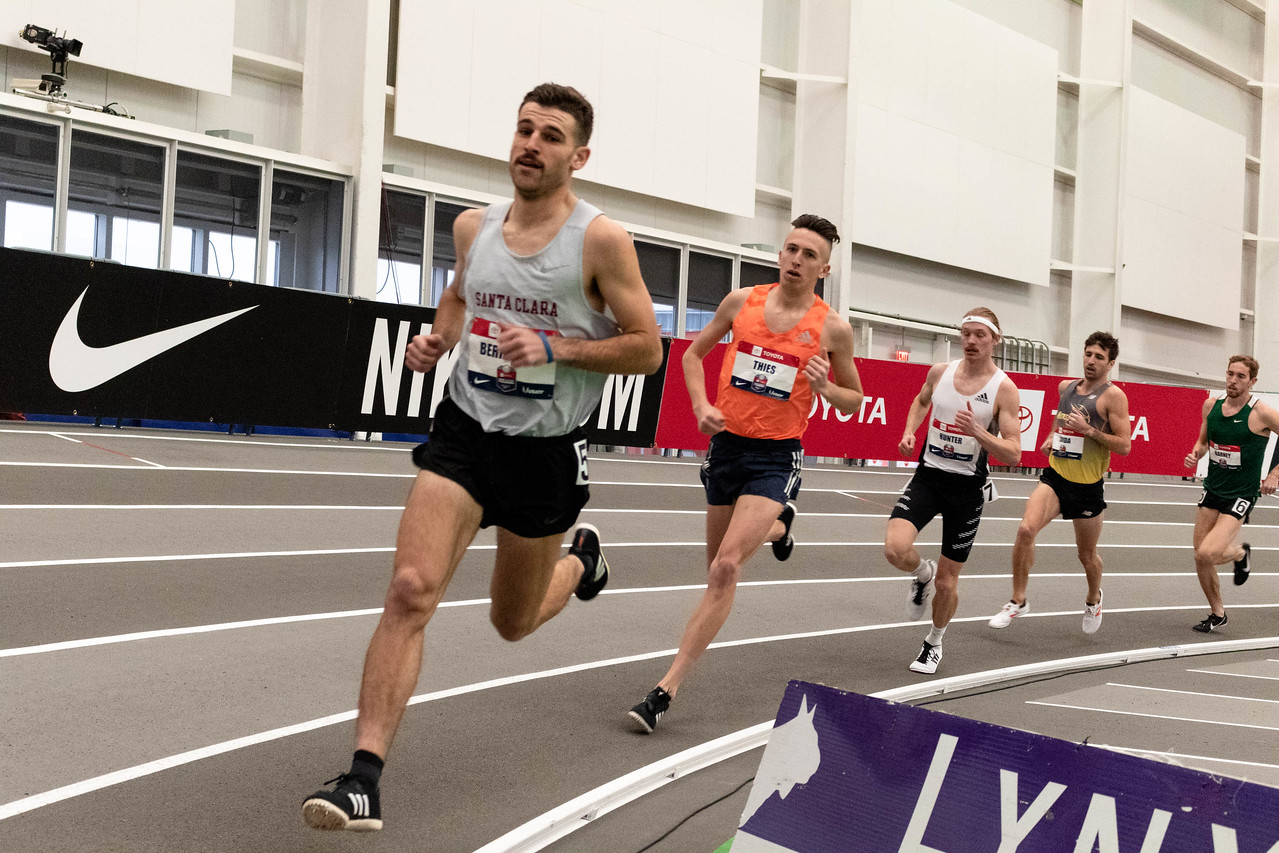 "Everything clicked. I felt incredible. I was just competing, all else be damned. I was rewarded with the win in 7:59—a 20 second PB and an auto-qualifier to the USATF Indoor Championships."
That race, and the belief that came with it, placed me on a different level in training and racing. Every single race following that 3,000m came with the mindset that I was capable of competing with some of the top runners in the country. I quickly learned the harsh reality that sometimes accompanies a breakthrough in this sport: the top runners in the country are very, very good. A majority of the time in my races following UW, I ended up getting my ass kicked. Just as quickly as I had gained confidence, it seemed like it was gone again.
The USATF Cross Country Championships in Tallahassee proved that I still had a long way to go in the sport to be a consistent top runner. It was my first real experience of racing the big dogs and, with my newfound confidence, I was ready to grab the bull by the horns. However, I found myself falling off pace after coming through two miles in 9:15. I finished 29th, humbled by guys who are just hands down better than me. I learned everyday wasn't going to be a 20 second PB kind of day. However, that day taught me that my running career was going to be a long term investment. If I wanted to find myself battling to the line with the best runners in the country, it was going to take years of training and doing everything right. That day opened my eyes to what it really takes.
While my first year in Boulder has been the most enjoyable of my life, it has also been the most challenging. Unless you're a professional with a contract, post-collegiate running is nothing like running in college. The resources that college teams provide: shoes, coaching staff, physical trainers, sports doctors, and recovery options are non-existent unless you pay for them. This makes deciding what to prioritize, from groceries to travel, nothing short of stressful. At this level, making an effort to take care of yourself outside of the time you spend running is just as important as the running itself—and unfortunately after college, it can be expensive. The toughest part of it all: checking all the boxes to take care of your body takes up a lot of time. Time most amateurs do not have, as most are working full-time jobs in order to afford as many of the 'little' things as they can. This sport, as an amateur, is a constant, and contradictory, balance. This was a harsh reality I slowly worked through and came to understand in my first year with Tinman Elite.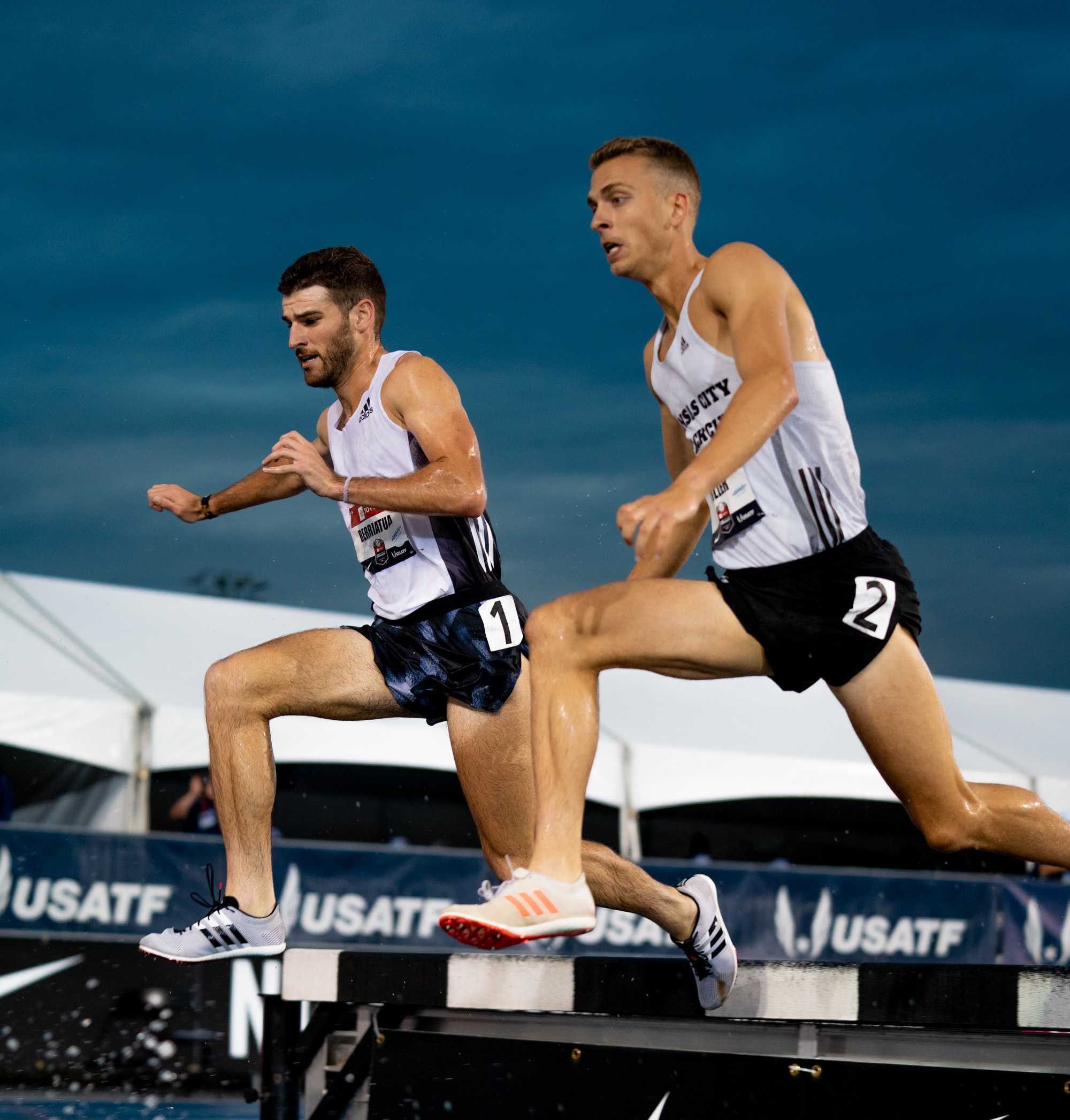 "An MRI following the USATF Outdoor Championships showed I had strained my adductor, torn my conjoint tendon, and developed signs of a sports hernia."
I learned very quickly that prioritizing health is crucial to staying consistent in this sport. Not doing so practically ruined my first track season as a post-collegiate. An MRI following the USATF Outdoor Championships showed I had strained my adductor, torn my conjoint tendon, and developed signs of a sports hernia. I first started feeling pain in late April, but decided to train and race through it. The pain and discomfort got worse and worse, to the point where I couldn't hurdle over steeplechase barriers without shooting pain.
I made a conscious decision to continue my training in hopes of qualifying for the Championships so I could gain experience racing at the biggest meet before the Olympic Trials. There were some good days during those three months—but a majority of the days were spent trying to ignoring the signs of my injury. Not being able to afford to consistently see a strength coach or massage therapist on a consistent basis surely did not help my case from a mental perspective. My frustration grew at the fact that some factors were out of my hands. At times, I broke down, losing the faith I had in myself, feeling helpless. But through it all, I never doubted that my coach and teammates were there for me.
One of the biggest reasons that I wanted to be a part of Tinman Elite is that we genuinely enjoy each other's company and share in our successes. Watching my teammates train, race, and develop, I've often found myself wanting them to realize their goals more than my own. It's a powerful thing. You can have the worst race or workout you've ever had, and can't help but be stoked for your teammate who just had the workout or race of their life. The times where I had to sit out on a workout or a long run due to my injuries only left me more excited to get healthy again, because I knew my teammates were developing quickly, but at the same rate that I would when I could fully train again. The support from the team is overwhelming, and while an injury can't help but make you feel alone and sorry for yourself at times, I am constantly reminded that there are 12 guys who care about me and want to see me come back and succeed.
In one year alone, Tinman Elite has challenged me beyond any expectations. Mentally, physically, and emotionally, my limits have been pushed and exceeded on a daily basis. I've been able to be a part of something greater than myself. I've been able to be pushed by my teammates, and have helped push them to their own successes in turn. When I was contemplating running post-collegiately, I had toyed with the idea of training on my own. Looking back, I know I would have been capable of it—but it would not have been enjoyable or sustainable. I thrive off the energy that my teammates bring to runs, workouts, doubles, the pool, and weight room every single day, and I hope they are able to feed off of my enthusiasm in the same way. I have found myself with significant PB's in every event, which I truly believed would not have happened in such a short time without my coach or Tinman Elite. A year ago, I would have laughed if you told me I would qualify for two USATF Championships. Now I feel like this is only the beginning. These guys will be Olympians one day—and my plan is to be racing alongside them.
"Tinman Elite has brought me more than a purpose in running, they have brought me the happiness I was hoping to find in this sport and life."
All photos provided by Cortney White, David Salafia, and Joe Hale.