On February 9th, 2019, Jeff Thies ran 3:59.89 for the Mile, becoming Tinman Elite's
fifth Sub-4 miler. Read on to hear about Jeff's journey to Sub-4:
THE START:
My journey to sub-4 began in February 2018, after failing to qualify for Indoor NCAAs in the Mile at the MPSF Championships. I ran a 4-second PR at the time, but was outkicked over the last 300m and finished in 4:03.3. I got scared. I was afraid I didn't have the speed it took to make it through rounds in the 1,500m to qualify for Outdoor NCAAs. So I got the idea that the 10,000m was a safer bet and something I would pursue. It's a dangerous thing to put so much stock into a less-than-stellar performance that it changes your goals completely. The quote "scared money can't win" by Cormac McCarthy proves to be right once again.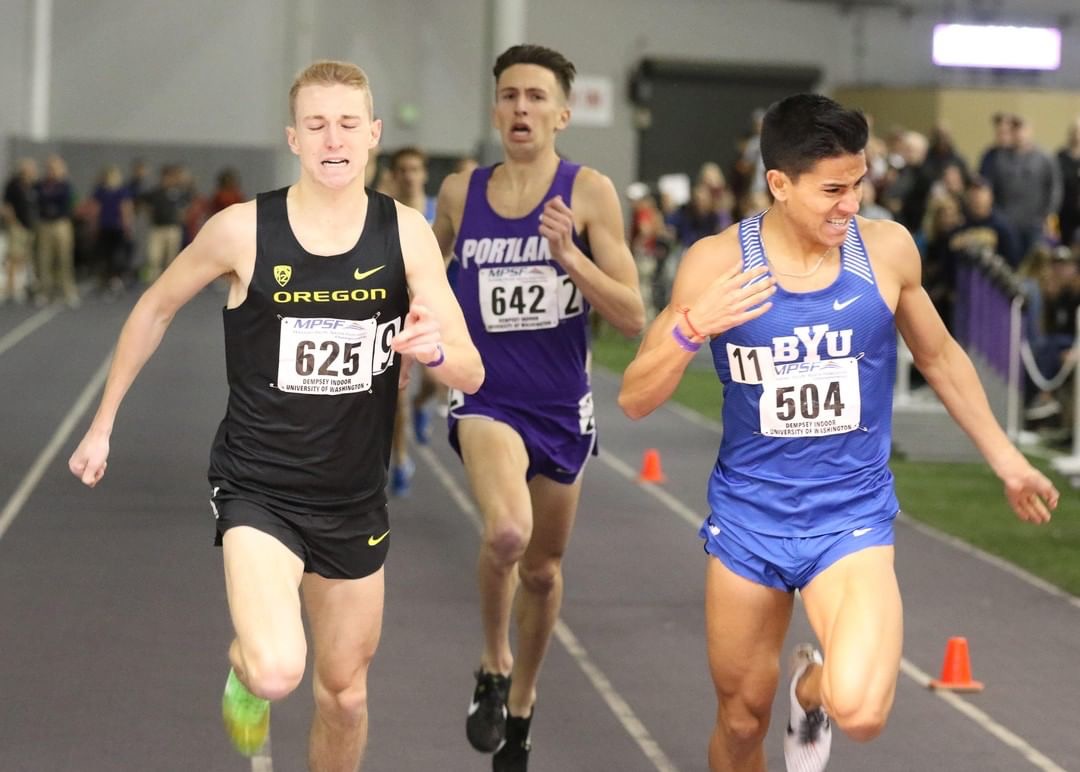 "Scared money can't win..." proves to be right once again.
In a quest to build the base strength necessary for a 10,000m race in just a month, I progressed my weekly mileage from 70, to 102, and then 105. Yeah, yeah I get it, I'm an idiot. So it wasn't a huge surprise when I felt a strange, almost empty, feeling in my left foot during a warmup for a workout. The weather that day was extremely windy and rainy. I was determined not to let foot pain or weather stop me from having a great workout three weeks before the Stanford Invitational 10,000m.
I progressed my weekly mileage from 70, to 102, and then 105. Yeah, yeah I get it, I'm an idiot.
THE FRACTURE:
In the weeks that followed that rainy workout, I brushed off the pain in my foot as routine tendonitis ,and went on with my training as normal. The feeling in my foot continued to worsen and I did what I could to lie to myself about the reality of my injury. But after running some 200s as a pre-race workout on Monday, I couldn't ignore the pain anymore. I remember getting up to go to the bathroom in the middle of the night and not being able to walk. I talked with my coach and athletic trainer, we decided I would try and race in order to hit a regional qualifier before taking to time off to let my body heal. That Thursday, I flew to Stanford with my left foot in a boot. As my teammates went for an easy run, I was left standing at the track in street clothes, pretending I had gone for my run before the flight. I had spent the whole week trying to convince myself something wasn't terribly wrong. The day of the race, I attempted a shakeout in the four-foot deep hotel pool. I remember landing on an uneven part of the pool, and the shooting pain that followed had me gripping the side of the pool in excruciating pain. That night, I warmed up for the race by sneaking onto the football practice field at Stanford and only turning to the right in an effort to take pressure off of my fifth metatarsal. Things felt okay during the warmup, and in a last ditch effort to appear normal on the start line, I spiked up. I think we can all agree at this point that I am not full of great ideas. As the race got going, clipping of 70 second laps felt relatively comfortable, I was right on pace. However, I was visibly limping. After eight laps, I tried to convince myself to just make it to the 5,000m mark, and then I could decide if I was able to finish. These mental gymnastics didn't help numb the sharp pain I felt every time I landed on my left foot. I quickly realized the race was a lost cause and dropped out 200 meters later. I sat on the track next to my coach and cheered on my teammates for the next 20 minutes. My coach reassured me that I had made the right decision, but I still felt as though I had failed. I looked over to my mom and sister, who had driven seven hours that morning to come and watch me. I felt ashamed that they did all that for me, and I had dropped out. When I got back into the boot, I sat in the hotel and worried over what my future would hold. This season was supposed to be the time I proved that I was worthy of a professional contract. Now, it was simply a matter of being able to run without pain again.
This season was supposed to be the time that I proved I was worthy of a professional contract. Now, it was simply a matter of being able to run without pain again.
When I got back home to Portland, I went through the process of getting an X-ray and MRI. This verified that I had a fifth metatarsal stress fracture. Something you could painfully feel by just rubbing your thumb across the massive bump on my foot. So it was time for a new game plan. In my mind four to six weeks as the doctor would say meant closer to three and I would be able to run on the alter-G in 2 weeks. Two weeks after my MRI, I got on the alter-G and set it to 20%. That is only 30 pounds of pressure on my legs, and it hurt every single step. I went home and couldn't help but cry. My future in running had never seemed more in jeopardy. Running in college for the most part is very safe, you almost always have "next year" to focus on to get through injury. But once you graduate nothing is guaranteed. So time went on, and I hobbled around in a boot. My new plan was simply to get back to 100%, no matter how long it took.
RESILIENT:
After seven weeks without running, I was finally able to run on the alter-G without pain. I worked up the percentage of my body weight that I could handle without pain, before moving to the turf. The number of loops I ran on the turf was mind numbing, but it was working. Throughout the comeback, the worries about my future never subsided. I would have regular anxiety attacks. Two to three times a week, I would get 5 minutes into a run and need to stop. I physically could not breathe. My chest would get tight and my mind would begin to race through every single thing that could possibly go wrong. Anxiety is something I have always battled. In 5th grade, I ended up in the ER because I was struggling to breathe. I didn't realize what I experienced was an anxiety attack until recently. I learned more about myself, and the ways that I could best handle my anxiety through that injury. A lot of good can come from an injury if you approach it with a growth-oriented mindset.
REDISCOVERING TEAM:
After graduating, I stayed in Portland for a few months to continue working with the athletic trainers and Coach Conner to steadily progress back into running consistently at full health. I loved the opportunity to remain around my teammates as they prepped for Regionals and Nationals. I went to every practice, and spent as much time at workouts cheering them on as I could. It reminded me of everything I fell in love with during my time at UP. The team atmosphere where every guy is working towards a collective goal of maximizing each individual's potential. It creates a culture of growth and positivity that I knew I needed to find in my next chapter of my running career. It was during this time that I met with Nick Roché, a former Gonzaga Bulldog. He is a great friend of Tinman Elite and put me in touch with the team. They embodied everything I was looking for in a team. Initially, I was hesitant to reach out, unsure if they would consider adding me to the team after my injury. Fortunately, this chip on my shoulder resonated with the members of the team. They had all at one point or another had chips on their shoulders and were counted out, just like I was. After talking to Coach Schwartz and the guys on team I immediately felt at home. As I prepared to move to Boulder, I had this soaring feeling that I knew my career was far from over. And this new journey in my life was just beginning.
The team atmosphere… creates a culture of growth and positivity that I knew I needed to find in my next chapter of my running career.
In October I moved to Boulder, CO to start training with Tinman Elite. As Reed said in his Citius Podcast recently, "sometimes you have to bet on yourself." He's too right, and that was exactly what I was doing. I packed up my little Honda Civic and drove 17 hours to move into an Airbnb with no long term guarantees, except that I would get to train with the Tinmen. Betting on yourself isn't always easy, but it is much easier when you have family, teammates, and coaches all willing to take a little gamble with you. I have learned that the best way for me to subdue my anxious feelings is through increased confidence. This confidence is something I can find through training and surrounding myself with people who are committed to their goals and actively working to achieve them. The energy that is brought to practice every day is with the Tinmen is undeniable, and I immediately latched onto that energy and found my confidence.
THE RACE:
That undeniable feeling is something I took with me to Ames this past weekend. I was heading into the race with a singular goal: break 4:00 in the Mile. As I left for the airport on Wednesday, Parsons left me with a parting quote, "run like a Tinman and you'll do great." When I toed the line, that quote was playing on repeat in my mind. The gun went off, and I went out with Pat Casey and the pacer, but after 400m I knew I was on too hot of a pace. I dropped back a few places, staying calm and coming through the 1,200m mark in about 3:01. Having that confidence from my teammates, I wasn't scared by the fact that I would need to close hard to accomplish my goal. I closed in 58 seconds for my last 400m, just barely sneaking under 4:00, finishing in 3:59.89. It was a massive relief to have finally done it. Sub-4 was a goal I'd been working towards for years. I remember running 4:10 in 2015 and telling a teammate I was going to break 4:00 one day. He laughed at that goal I had, but I knew it was something I could, and would accomplish.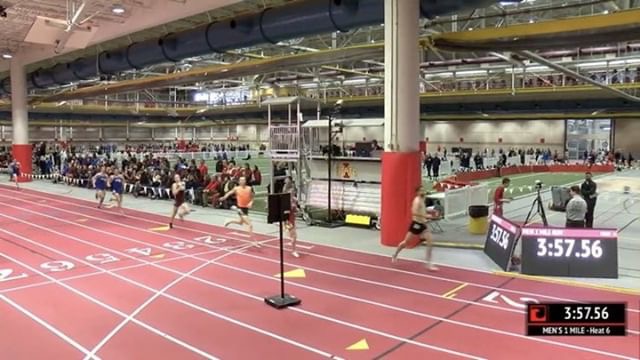 I remember running 4:10 in 2015 and telling a teammate I was going to break 4:00. He laughed at the goal, but I knew it was something I could, and would accomplish one day.
February 9th, 2019 was that day.
Breaking 4:00 this past weekend is one of those performances that redefines and reassures who I am. It is an accomplishment that can never be taken away from you. From that day onward, I am a Sub-4 Miler, and that feels pretty damn good. Now the real fun begins. I no longer need to worry if I can do it, I can just focus on running faster and competing for the win. It's the sort of confidence boost that I needed before heading to New York for USA Indoors at the end of this month. So while Sub-4 marks a huge milestone for me, my goals have now been reset for something greater.
And that's what's beautiful about this sport: no matter what level you're at, there's always something greater to pursue.